IMTEX FORMING Talk
IMTEX FORMING Talk is a one window shop for you to gain an insight into the show and explore more.
From IMTMA Desk
Digital Manufacturing – The Factory of Future is Here Today?
Today in manufacturing there are two types of companies. There are the ones which are dedicated to the traditional ways of manufacturing using machines which require manual operations and there are others that bring out the same products efficiently and at faster rate using modern technologies. It is a sink or swim scenario for most manufacturing companies that look forward to make their mark in the world of manufacturing. It is a competitive world and those who give the best in the shortest time at lowest cost are the ones that are going to come out on top. With digital manufacturing, a machine is able to read computer aided design file and it is possible to prototype, produce and fabricate molds to aid production. IMTEX is amongst the world's leading trade fairs for metal cutting and machine tools offering outstanding networking opportunities and excellent potential for business deals. The Digital Manufacturing Exhibition at IMTEX 2021 intends to fast-track India's adoption of Industry 4.0 and additive manufacturing solutions to exponentially increase the pace of digitalisation and transform the manufacturing scenario. The exhibition will cover innovative manufacturing technologies centred on robotics, automation, modelling, simulation, data analytics, and sensorisation amongst others.
For pictures and videos from IMTEX FORMING 2020 & Tooltech 2020
Click Here
IMTEX 2021 & Tooltech 2021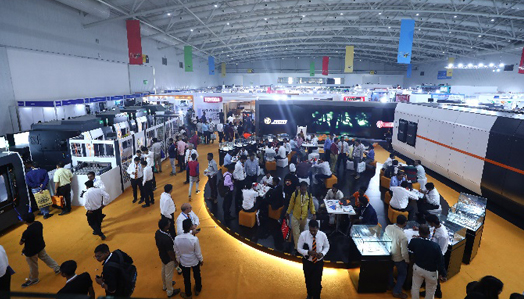 IMTMA will organize its flagship IMTEX & Tooltech 2021 at Bangalore International Exhibition Centre (BIEC), from 21 to 27 January 2021 in Bengaluru. IMTEX be a more comprehensive and extrapolated show covering an exciting assemblage of new-age technologies under one roof by remodeling itself to a new paradigm as the "International Machine Tool and Manufacturing Technology Exhibition". Read More
Book Your Stall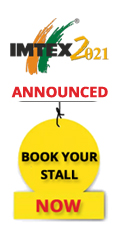 Indian Machine Tool Manufacturers' Association
10th Mile, Tumkur Road, Madavara Post, Bangalore - 562 123, Karnataka (India)
+91-80-6624 6600 /
© Copyright 2020 IMTEX. All Rights Reserved
Disclaimer : The pictures shown in the newsletter have been taken from various sources and IMTMA does not take responsibility for the accuracy of the same.