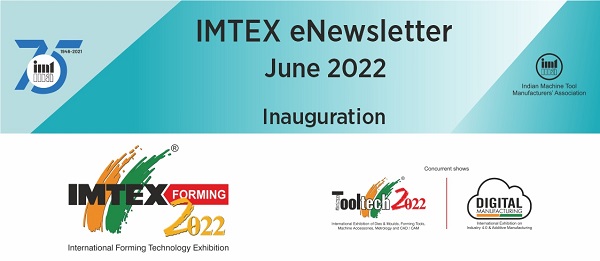 IMTEX FORMING 2022 Inaugurated
Largest Machine Tool and Forming Technology Show Witnesses Strong Response from Manufacturing Industry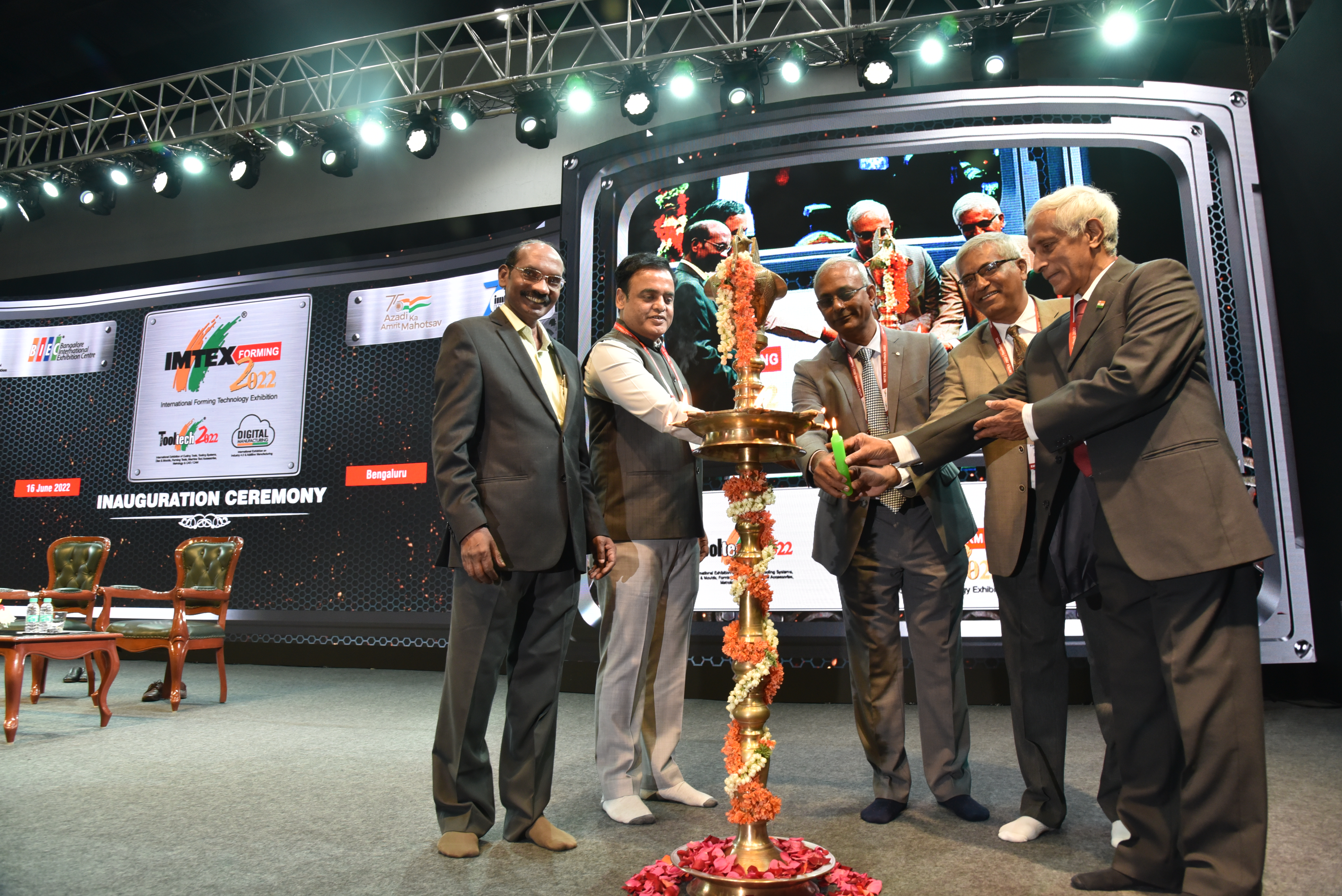 South East Asia's largest exhibition on forming technologies, 'IMTEX FORMING 2022 along with Tooltech and Digital Manufacturing' was inaugurated today, 16 June 2022, at Bangalore International Exhibition Centre (BIEC), Bengaluru. The exhibition was inaugurated by Shri Dr. Ashwath Narayan C. N., Hon'ble Minister of Higher Education, IT & BT, Science and Technology and Skill Development, Government of Karnataka, and Dr. K. Sivan, Dr. Vikram Sarabhai Distinguished Professor and Former Chairman, ISRO. Mr. Ravi Raghavan, President, IMTMA, Mr. Rajendra Rajamane, Vice President, IMTMA, and Mr. P.J. Mohanram, Principal Advisor, IMTMA were also present. A Comprehensive Report on Indian Metal Forming Machine Tool Industry - 2022 along with the IMTEX FORMING 2022 Exhibition Catalogue was released at the inauguration. IMTEX FORMING continues to be a market leader in propelling business growth for machine tool and manufacturing industries in India, regardless of tough market conditions, economic slowdown, or pandemic disruptions.

5 days remaining for the show, if you haven't registered, then do now. For more information on the event, Click here
IMTMA and IIW Sign Agreement for WELDEXPO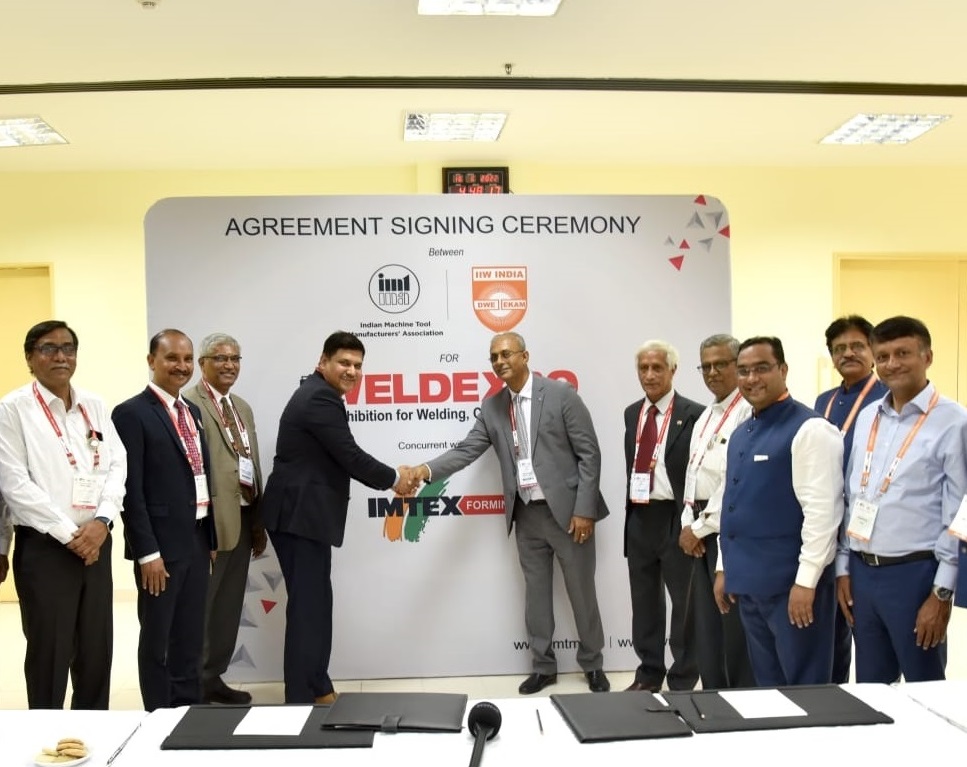 Indian Machine Tool Manufacturers' Association (IMTMA) and Indian Institute of Welding (IIW), Pune signed an agreement on 16th June 2022 to jointly organize WELDEXPO, an exhibition on welding, cutting and joining from IMTEX FORMING 2024 onwards at BIEC. This will help IMTEX FORMING grow to the next level, facilitate in exchange of new technologies and both the institutions can supplement the growth of each other.
Concurrent Events
Tooltech


Tooltech, held concurrently with IMTEX FORMING is showcasing the world of parts, accessories and systems for machine tools and manufacturing technology.
Digital Manufacturing


In 2019 two new pavilions were introduced to cover Additive Manufacturing under the banner "Additive Manufacturing Expo" and Industry 4.0 under the banner "Factory of the Future". The two pavilions have been brought under the banner Digital Manufacturing.
Special Highlights
Live Demo on Industry 4.0 in Manufacturing


IMTMA is organizing a Live Demo on INDUSTRY 4.0 concept during IMTEX FORMING 2022 from June 16 - 21, 2022 at its Technology Centre in Bengaluru. A model smart factory has been set up where CNC Turning Centre, CNC Machining Centre, Digital Height Gauge and CMM machines are connected and monitored.
i2 Academia Pavilion (Industry - Institution Pavilion)


IMTMA is providing opportunity for Academic / R&D Institutions to showcase R&D capabilities in metalworking. A strong industry-academia bondage will provide rich dividends for manufacturing industry. Today, industries are moving to 'Designed in India' products and R&D is important for this.
AatmaNirbhar Bharat Pavilion


Firmly backing the Government of India's vision of a self-reliant India, for the first time, IMTMA is showcasing an AatmaNirbhar Bharat Pavilion at IMTEX FORMING 2022. Visitors will get access to indigenously built technologies and solutions.

| | | | | |
| --- | --- | --- | --- | --- |
| | | | | |

Published by Indian Machine Tool Manufacturers' Association.

Email: imtma@imtma.in


© Copyright 2022 IMTEX. All Rights Reserved