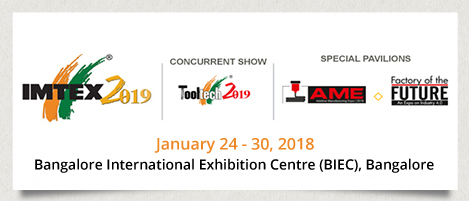 IMTEX Talk
IMTEX Talk is a one window shop for you to gain an insight into the show and explore more.
IMTEX Sets a New Milestone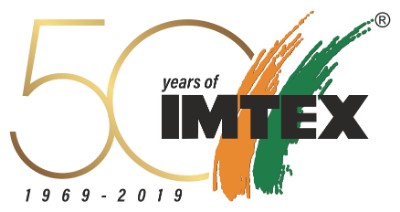 IMTEX 2019 & Tooltech 2019 at Bangalore International Exhibition Centre in Bengaluru from 24 - 30 January 2019 will be the largest ever in IMTEX history. The show will be held in 6 halls covering an exhibition space of around 80,000 square metres with a new hall (Hall 5) being opened for international exhibitions for the first time. Read More
Product Displays
Jyoti CNC displays Tachyon, Handsome Hunk and K3X 8 FIVE
Jyoti is displaying a new variant in Turning Center series with Next Gen design loaded with best technological features.
Read More
Allied Machine Announces New 4TEX Drill Engineered for Toughest Jobs
Allied Machine & Engineering, a leading manufacturer of holemaking and finishing tooling systems and etc.
Read More and Watch Video
IEC Industrial Airtools
IEC will display complete range of IEC Industrial Airtools with focus on Torque Controlled pulse tools. Read More
LEANworx CLOUD simplifies complex and expensive CNC machine monitoring
This innovation from LEANworx makes it possible for shop floors to track machine productivity online. Read More
New Launch of Flex-6 Nano – "SMALL BUT POWERFUL!"
With TRIO functionality you get ONE Controller for machine, line automation and ROBOT solution and etc. Read More
Your Solution Provider in the field of Cold Forming
As a lightweight product design expert, we develop optimal solutions and processes for our customers. Read More
A New Approach to Shop Floor Gear Inspection
Kudale Instruments will display numerous products that would re-define shop floor gear inspection. Read More
TopSolid, AdeQuate 4 Industry and CGTech Vericut
Designcell will display a unique integrated Cad Cam Solution for CNC Turning, Milling, etc. Read More
VERTICAL TURN-MILL CENTRE Model TUE-200(S)
Toshiba is displaying a RAM TYPE VTL with 2.0 Meter table Diameter. Read More
Greases, Gear Oils and Hydraulic Oils for Industrial Applications
MotulTech offers a wide range of greases with excellent anti-wear properties and etc. Read More
Fire safety in a CNC Grinding / EDM machine
Warrier Electronics is displaying Firetrace an automatic fire detection and suppression system for micro environments.
Read More
5-axis universal machine series from GROB
The GA350 and GA550 5-axis universal machining centers offer all customers in the machining sector.
Read More
Disclaimer : The information in the Product Displays section has been provided by the exhibitors and IMTMA does not take responsibility for the accuracy of the content.