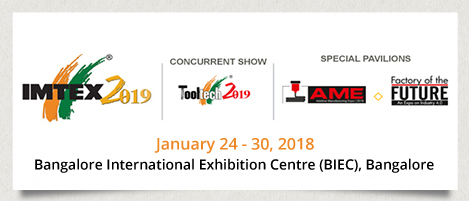 IMTEX Talk
IMTEX Talk is a one window shop for you to gain an insight into the show and explore more.
Celebrating a Five Decade Manufacturing Excellence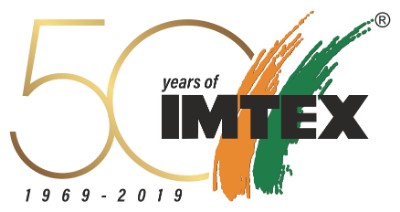 Indian Machine Tool Manufacturers' Association (IMTMA) will organize its twin show - the 19th edition of IMTEX (IMTEX 2019) and 21st edition of Tooltech (Tooltech 2019) from January 24 - 30, 2019 at Bangalore International Exhibition Centre (BIEC) in Bangalore. Read More
Product Displays
Turn your Factory into a Smart Factory with ASI DataMyte!
ASI DataMyte implements integrated quality management solutions that allows for a smart and connected factory.
Read More
Elesa+Ganter = High Performing Items
Elesa+Ganter has a solution for virtually every application. Standard elements meet the needs of applications in various industrial sectors. Read More
Fermat Machines offer Cutting-edge Technologies
A range of products consisting of horizontal boring mills (both table and floor type), milling machines, gantries and cylindrical gantries. Read More
HF Series Hydraulic Filtration Skid
Keep the oil within the engine / equipment clean with FILTEK HF series. Read More
Acquire Precision with Drills and Cutting Tools from Fulaike
Want to improve the vibration resistance and the stability of cutting? You get it all at Fulaike (Suzhou) Cutting Tools
Advances in Metal Marking
Gravotech presents 4 different laser types for metal marking: CO2, Fiber, Hybrid, and Green. See the brochure. Watch the YouTube video here.
Haimer i4.0 Modular Tool & Data Management
Presenting the advantages with Haimer i4.0 tool and data management. Read More
Heidenhain Exhibits Encoders, Gauges, Display Units
High quality products with special production facilities and measuring equipment. Read More
Millennia Technologies presents Innovations from OTEC, ELMA and ALICONA
Best of breed business solutions leveraging technology for surface finishing, cleaning and measuring of precision components from Europe. Read More
Mitsubishi Electric Showcases Automation
E80, M800/M80, C80 series, Industrial robots, factory automation and laser, all in one stall. Read More
Pilana Metal showcases wide range of Sawing Products
Pilana Metal has developed a high performance, M42 Grindcut bandsaw blades with all grinded teeth. Read More
Universal 3D Metrology Software Platform
Maximize the benefits of 3D measurement technologies for industrial manufacturing organisations with innovations from PolyWorks. Read More
Connection Solutions Designed for Safety and Reliability
Innovative and versatile connectors for a broad range of industries, both standard and customized connection solutions for all types of fluids. Read More
Stamp IT
The complete marking machine with built-in electronics based on the most stable Ethernet port suitable for 24x7 working.
Read More
Perfect Metal Cutting Solution
Get reliability, conformance, serviceability, aesthetics, performance and quality. Read More
United Grinding Digital Solutions
The next industrial revolution – Industry 4.0. Read More
Disclaimer : The information in the Product Displays section has been provided by the exhibitors and IMTMA does not take responsibility for the accuracy of the content.


For more product information from different companies participating in IMTEX 2019 & Tooltech 2019,
Click Here