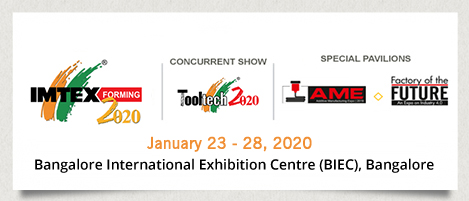 IMTEX FORMING Talk
IMTEX FORMING Talk is a one window shop for you to gain an insight into the show and explore more.
From IMTMA Desk
Creating a Software Ecosystem for Enhancing Quality, Productivity and Competence of Metal Forming
Whereas, CAD-CAM has taken deep roots in Indian Industry to compliment CNC Machines; on Forming side the awareness, competence and effective use of supporting software ecosystem has been severely restricted to very few domains. As a result, most forming technologies in India today get deployed in "equipment centric standalone mode" based on "experience / iteration baked expertise", with lower productivity, minimal automation, lesser predictability and consistency in effectiveness. Read More
IMTEX FORMING 2020 & Tooltech 2020
January 23 - 28, 2020; BIEC, Bengaluru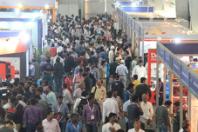 IMTEX FORMING is a flagship event for the Indian metal forming industry. It is South and South East Asia's apex exhibition showcasing the latest trends as well as technological refinements from India and other global players. The mega event attracts visitors from a wide spectrum of manufacturing and ancillary industries including key decision and policy makers as well as industry captains who are keen to source latest technologies and manufacturing solutions for their product lines. Tooltech 2020 will be held concurrently. Read More

For pictures and videos from IMTEX FORMING 2018 & Tooltech 2018
Click Here
Peripheral Events
International Seminar on Forming Technology
To address the latest trends developments and research in forming technology, the 9th International Seminar on Forming Technologies will be held on 22 January 2020. Read More
Connect
IMTMA will organize 'Connect', an awareness programme for imparting knowledge on the machine tool industry for young engineers during IMTEX FORMING 2020. Read More
i2 Academia Pavilion
At IMTEX Forming 2020, IMTMA provides an opportunity for Indian Academic / R&D Institutions to show case their R&D capabilities in metal working field to the world. Read More
i2 Additive Manufacturing
To familiarize Indian manufacturing industry with the techno-commercial advantages of Additive Manufacturing IMTMA will be organizing a seminar on additive manufacturing as well as displaying products in a special pavilion.
i2 Factory of Future : Industry 4.0
To give exhibition participants a clear roadmap on which technologies to adopt to benefit their organizations and how to implement them IMTMA will organize a seminar on Industry 4.0 and displaying products in a special pavilion.
Jagruti
IMTMA will organize "JAGRUTI – IMTMA Youth Programme" which will witness participation of students from renowned engineering colleges across the country. The initiative is an attempt to create awareness about the latest developments in the manufacturing industry.