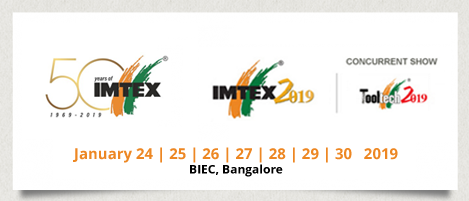 IMTEX Talk
IMTEX Talk is a one window shop for you to gain an insight into the show and explore more.
Additive Manufacturing Expo 2019

Manufacturing industry can familiarize itself with the techno-commercial advantages of additive manufacturing, network, explore technical collaborations for market access and avail business opportunities with the first ever special pavilion on Additive Manufacturing Expo during IMTEX. Read More
Product Displays
Your Source for Tooling Components
Become a world leader using standard tooling components and industrial parts. Read More
Specialty Products for Manufacturing Industry
Production, repair and maintenance with specialty products. Read More
Filtration Systems across Several Industries
Filtration systems and commercial filtration systems used across industries under one roof. Read More
Shock Resistant / Anti-Vibration Table with Auto Levelling Pneumatic Vibration Mounts
Obtain a precise and shock resistant anti-vibration table with this specialized design. See the brochure. For more info. Read More
Avoid recurring costs with Olimax Centrifugal Oil Cleaning System
A unique system which works on principle of centrifugal separation. No filter element and no recurring cost.
Read More
Disclaimer : The information in the Product Displays section has been provided by the exhibitors and IMTMA does not take responsibility for the accuracy of the content.