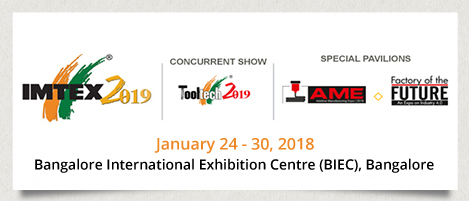 IMTEX Talk
IMTEX Talk is a one window shop for you to gain an insight into the show and explore more.
IMTEX 2019 & Tooltech 2019 attracts
91,446 visitors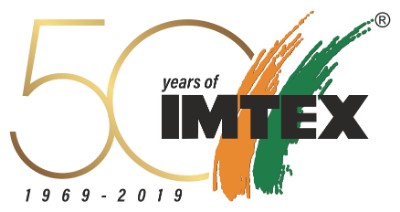 IMTMA celebrating 50 years of its flagship IMTEX exhibition, during 'IMTEX 2019 & Tooltech 2019' held at Bangalore International Exhibition Centre (BIEC), Bengaluru from 24th to 30th January 2019 has created a new record. Read More
New Initiatives at IMTEX 2019
IMTEX Eco Design Awards : Nurturing Eco-friendly Exhibitions
| | | |
| --- | --- | --- |
| | | IMTMA constituted an Eco Design Award to encourage adoption of eco-friendly practices in exhibition stalls. Six companies were conferred with awards in various categories. Read More |
International General Managers' Meeting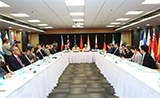 IMTMA hosted the first International General Managers' meeting coinciding with IMTEX 2019. The meeting provided an apt platform for the industry to exchange ideas, share knowledge and do some networking. The meeting was a successful forum for a productive discussion and dialogue between all machine tool associations for mutual benefit.
IMTEX TV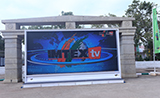 IMTMA had set up a full-fledged studio through which it conducted panel discussions, CEO talk, news of the day, tech talk, etc. Besides live coverage of IMTEX inauguration and inauguration of the seminars on Additive Manufacturing and Factory of Future: Industry 4.0, developments from the exhibition were streamed on 7 LED Walls at the venue.
Foreign Media at IMTEX 2019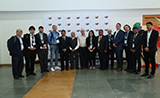 A group of 9 journalists were invited to IMTEX 2019. The objective of the visit was to acquaint them with the Indian machine tool and manufacturing industries and broadcast the opportunities in India for overseas manufacturers. Journalists from Gardner Business Media, MediaMax S.R.O., Vogel Communications Group, Ringer Media, Seisanzai, Promedia, Smart Trade Publications, and Metalworking Magazine Agency participated in the exhibition and held a one-on-one meeting with Jamshyd Godrej, Chairman, Exhibitions, IMTMA, Shailesh Sheth, Past President, IMTMA and V. Anbu, Director General & CEO, IMTMA.
Parallel Events in IMTEX 2019
8th International Seminar on Machining Technologies (ISMT)
| | | |
| --- | --- | --- |
| | | The 8th edition of ISMT was organized by IMTMA on 23rd January 2019, a day before the week-long metalworking event. Read More |
International Buyer Seller Meet : Building Business Bonds
| | | |
| --- | --- | --- |
| | | The International Buyer Seller Meet organized as part of IMTEX 2019 concluded on a high note. Most of the buyers were interested in sourcing either components or machinery from India and forging partnership with Indian manufacturers. Forty-eight delegates from 13 countries participated in the meet. |
i2 Academia Pavilion : Applauding Merit
| | | |
| --- | --- | --- |
| | | A record 50 institutions participated in the i2 Academia Pavilion held during IMTEX. Thirty-three institutions were outstation ones and 17 were local ones. Read More |
Jagruti-IMTMA Youth Programme
| | | |
| --- | --- | --- |
| | | The 12th edition of Jagruti-IMTMA Youth programme witnessed participation of students from renowned engineering colleges across the country. Thirty students from 14 institutions across India attended the programme. |
Disclaimer : The information in the Product Displays section has been provided by the exhibitors and IMTMA does not take responsibility for the accuracy of the content.

For Pictures and Videos from
IMTEX 2019 & Tooltech 2019
Click Here