International Media visits IMTEX, forges close bonds with Manufacturing Industry
Celebrating 50 years of its flagship IMTEX exhibition in Bangalore, Indian Machine Tool Manufacturers' Association (IMTMA) undertook several new initiatives one of which was to invite international media to cover IMTEX & Tooltech 2019. Nine journalists from USA, Czech Republic, Italy, Philippines, Japan, Russia, Thailand and China visited India. The objective behind inviting the foreign media was to acquaint them with Indian machine tool and manufacturing industries through plant visit to some leading Indian machine tool manufacturing companies and network with exhibitors at IMTEX.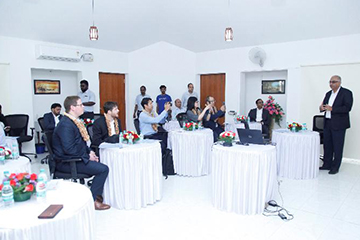 Following journalists travelled to India for the plant visits and participating in IMTEX 2019 :
Bryce Ellis, Publisher, Gardner Business Media, USA
Dan Koneval, Co-owner, MediaMax S.R.O., Czech Republic
Ferdinando Salaris, Vogel Business Media-Representative for Italy, Vogel Communications Group, Italy
Kathryn Anne Gerardino-Elagio, Senior Editor, International Metalworking News Asia (Ringer Media), Philippines
Matthew Danford, Senior Editor, Gardner Business Media, USA
Nishizuka Masanobu, Editor, Seisanzai, Japan
Pavel Alekseev, Editor, Promedia, Russia
Watchararat Muangkham, Editor, Smart Trade Publications, Thailand
Yu Yongchu, Editor, Metalworking Magazine Agency, China
To help gain a wider understanding of manufacturing developments in India IMTMA organized plant visits of some prominent Indian companies. The delegates visited Bharat Fritz Werner (BFW), ACE Designers, ACE Manufacturing Systems, and UCAM in Bangalore on 22nd January 2019 and Titan Engineering & Automation Limited and Ashok Leyland in Hosur on 23rd January 2019. Representatives from IMTMA and Madison PR accompanied the delegates during the outings.
The two-day plant visit began with the media delegation visiting BFW. The journalists had an interaction with Ravi Raghavan, CEO and Praful Shende, Chief Sales and Marketing Officer who gave a presentation of the company's business initiatives. Ravi Raghavan spoke about BFW's geographical presence in France and Turkey and also revealed that they were focusing on entering the US market. The visit culminated with BFW team taking the journalists to show them the actual shop-floor developments.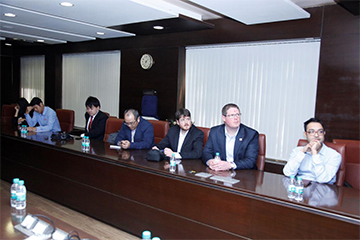 After BFW, the delegates were taken to ACE Designers and ACE Manufacturing Systems. In ACE Designers the journalists interacted with T.K. Ramesh, CEO-MMT, ACE Micromatic Group and in ACE Manufacturing Systems they interacted with P. Ramadas, IMTMA President. The management of ACE group told the media that the company is famous for providing cost-effective products and solutions and has a large market in tier 2 and tier 3 cities in India.
Day 1 of the visit concluded with a visit to UCAM plant in Dobbaspet in Nelamangala Taluk, Karnataka. The delegates had a healthy interaction with Indradev Babu, Vice President, IMTMA. UCAM employees gave a presentation of their company's business which is mostly into CNC rotary tables and custom built rotary tables. Indradev Babu stated that Indian manufacturing industry is developing admirably with 5-axis machines.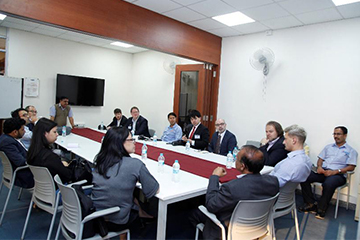 Day 2 of the visit commenced with the delegates visiting Titan Engineering & Automation Limited in Hosur. In Titan the delegates met N.P. Sridhar, Business Head & Associate Vice President, Aerospace and Defence division. He spoke about the potential of additive manufacturing and automation industry which is estimated to be close to a billion dollars although the potential of the industry could be much more. He also said that Titan trains its engineers on handling complex machine parts. The visit to Titan concluded with a factory visit. Delegates had to wear safety shoes while visiting the plants.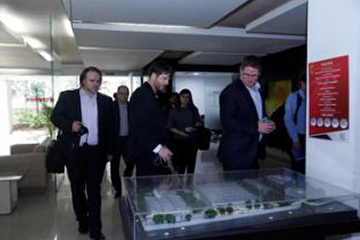 The final company visited as part of the study tour was Ashok Leyland one of India's largest business conglomerates in Hosur. The delegates met with S. Ravichandran in Plant 2. Ravichandran stated that Ashok Leyland housed in a 234 acres land was the 4th largest bus manufacturer in the world and supplies to Indian defence force. The company is planning to enter SAARC nations such as Africa, Russia and Middle East. The media was enthralled by the huge shop-floor of Ashok Leyland where they witnessed trucks and heavy vehicles being manufactured.
The media representatives spent their next two days 24th and 25th at BIEC attending a series of meetings with stakeholders and visiting IMTEX exhibition before finally departing to their respective countries on 26th January. All of them were significantly impressed with the factory visits and the IMTEX exhibition and manifested their interest in returning to the show again.